Conservation Lands
Program Overview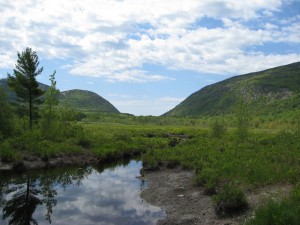 As of 2010, about 17%, or 3.6 million acres of Maine's forest is under some form of conservation program. These lands, owned and managed by both private and public organizations, are largely managed for ecosystem services (e.g., recreation, biodiversity, natural resources, clean water, etc.) to provide a host of public values for current and future generations of Mainers. Managing a landscape-level portfolio of conservation lands across diverse owners and political jurisdictions is extremely complex.  Though all under some form of conservation, these lands are managed under highly disparate objectives and societal pressures. Many of these lands are located in remote regions of the state, thus limiting their ability to provide many direct public benefits.
Understanding how these lands are ultimately protected, managed and valued by current and future generations will significantly affect the sustainability of Maine's communities and related forest-based industries, including forest processors and the recreation and tourism sector.
Under the leadership of founding program leader Dr. Rob Lilieholm, the Conservation Lands Program led an applied scientific and outreach effort to better understand, monitor and anticipate important issues regarding Maine's conservation lands, as well as the public values towards forests and forestry issues in the state.