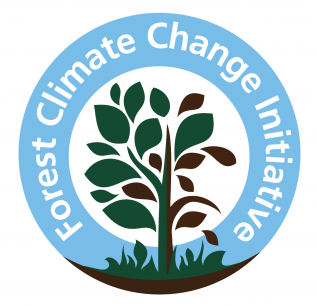 Forest Climate Change Initiative
The State of Maine's Carbon Budget
FCCI Researchers Have Just Released a 2-Page Fact Sheet on the Current State of Maine's Carbon Budget. For the fact sheet and background, click here.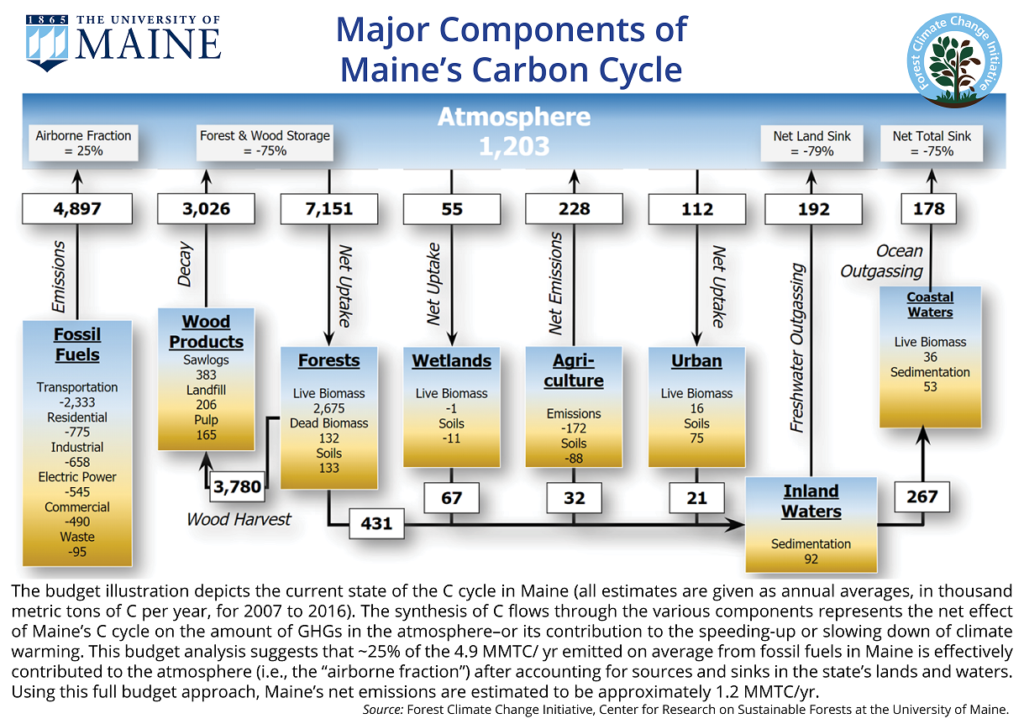 FAQs
Why are Maine's forests important to the state's carbon budget? How do forest growth and harvesting impact climate? Answers (and relevant links to additional resources) to these and related questions can be found on our FAQ page.
---
Forest Climate Change Initiative
Maine's Forest and Climate Change
Maine has a strong gradient in climate ranging from maritime to alpine, which helps to contribute to a diverse forest (Figure 1). There are a number of issues that link both climate and forests including tree growth and mortality, forest health, operability, ecosystem services (carbon storage, water quality, wildlife habitat), and recreation opportunities.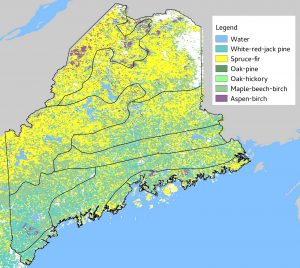 With a changing climate, Maine has and will continue to experience a warmer and wetter climate (Figure 2) with a higher potential for extreme events and greater weather variability in concert with a changing chemical climate (e.g. increased CO2, decreased sulfur deposition). This has significant implications for the role of forests in climate mitigation, greenhouse gas emissions, a changing renewable energy landscape, and adaptation that includes minimization of risk as well as new opportunities. In particular, implications of a changing climate include alterations in forest species composition and productivity, forest recreation opportunities, risk of pests and diseases, winter operability, and forest hydrological regimes.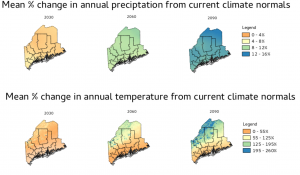 The University of Maine has significant expertise on climate and forest resources, which exists across academics units, centers, and institutes. This web portal is intended to serve as a point of access to these resources and encourage networking among university expertise as well as external stakeholders.
---
FCCI Outreach
In April 2019, the FCCI hosted a session the the Maine Water and Sustainability Conference to highlight the goals of this initiative and to begin a larger discussion on research priorities. The session featured an overview of current FCCI activities, presentations on the current state of knowledge across multiple disciplines, and a panel discussion of stakeholders on their experiences and information needs regarding emerging weather patterns and climate change. 
Potential Concerns to Be Addressed
Climate effects and unpredicatability on forest products industry and tourism (ski industry,
hiking, state and national parks, etc.) infrastructure
Big data needs on precipitation, erosion, and variability
Effects on tree growth and species migration
Increase/decrease of native and non-native pests
Spatial mapping and forecasting of effects
Implications for sustainable eco-tourism and forestry
---
CRSF Forest-Based Research