University of Maine Climate and Forest Network
In light of our changing climate and its opportunities and challenges, the CRSF is now managing and coordinating the Climate and Forest Network, an outreach effort to improve networking and communications as well as collaborative research on this subject.
---
Spruce Budworm Task Force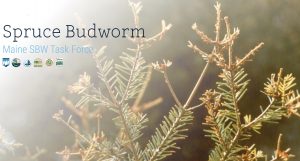 The Maine Spruce Budworm Task Force, formed in 2013 with experts from the Maine Forest Service,  Maine Forest Products Council, and the University of Maine's Cooperative Forestry Research Unit, maintains a website (and related Facebook page) to convey lessons learned during the last outbreak and be proactive about sharing up-to-date outbreak and response efforts to mitigate potential negative impacts from the future infestation. The Task Force's efforts aim to enhance research efforts and project model future conditions so that appropriate investments in forest management in place to utilize the wood generated by this future outbreak while attempting to mitigate negative impacts on wildlife habitats, recreation and other forest resources.
---