Holt Forest site of newly published study
Long-term study links tree seeds, rodent population fluctuations
Maine Forest Dashboard Website Now Available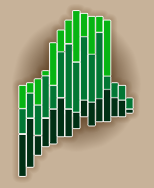 The University of Maine Center for Research on Sustainable Forests has partnered with the Maine Forest Service to develop and release the Maine Forest Dashboard website.
The website provides current information about aspects of Maine's forest, including recreation and tourism, conservation, forest products and family forests. The website also provides interactive graphing capabilities with important statewide utilization data, such as annual county harvest levels by species (1996-2014) and nominal annual stumpage pricing by species and product (1959-2013). This data previously resided in annual reports prepared by the Maine Forest Service. The new website offers greater access to this historical data and ability to assess long-term trends.
The website will be regularly updated as new data becomes available and additional features added. For more information, please contact the Center for Research on Sustainable Forests (207-581-3794; crsf@maine.edu).
The Maine Woods: A Landscape of Working Forests and Collaborative Conservation
Conference registration now open for the conference to be held in Bangor and Maine's North Woods, October 3-5, 2017. Topics include: managing forests at a landscape scale, working forest conservation easements, aquatic connectivity, and public use of private lands. For more information click on the link below.
ECANUSA Conference Proceedings Released
The Eastern CANUSA Forest Science Conference has just released the Proceedings of the 8th Eastern CANUSA Forest Science Conference. The conference was focused on the many stressors and agents of change converging on the region's forests. Scientists and practitioners from a large spectrum of expertise made presentations on research, monitoring, management and outreach activities to address the many challenges that our changing environment present to the sustainable management of the regions forest resource. Abstracts of all presentations are included in the proceedings.
Forest Economic Growth Inititative
Patrick Strauch, Executive Director of the Maine Forest Products Council, discusses the next steps in the long-awaited "roadmap" for Maine's forest economy.
2016 Annual Report Released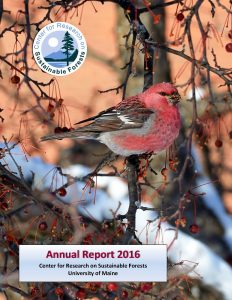 The 2016 CRSF Annual Report is now available.
Carbon Credit Programs Among SFI Participants in Maine
Maine has 17.6 million acres of forests, 17.1 million acres (97%) of which is considered timberland. Maine forest landowners are growing more wood than they harvest, and the carbon in the state's forests has increased in volume by almost 5% from 2004 to 2012. Over eight million acres in Maine is managed according to the sustainability standards of the Sustainable Forestry Initiative, Inc. (SFI), and/or the Forest Stewardship Council (FSC), or the American Tree Farm System (ATFS) — a key eligibility criterion for carbon credit programs. Yet, none of the 6.3 million acres of SFI‐certified lands in Maine are enrolled in a carbon credit program — not for lack of interest, because all of Maine's SFI participants have considered carbon credits. Maine landowners who participate in other certification programs or adhere to a sustainable long‐term management plan approved by a
state or federal agency have enrolled tens of thousands of acres in carbon agreements worth millions of dollars.
"Adoption of Carbon Credit Programs among SFI Participants in Maine," the recently released report by Keeping Maine's Forest, analyzes the degree to which forests managed to the Sustainable Forestry Initiative's (SFI) standards in Maine are enrolled in carbon credit programs; analyzes the opportunities and constraints these programs represent for landowners; and examines the strengths and weaknesses of different landowner types when considering enrolling land in a carbon credit program. The study examines the value that sustainability certification adds to the process of obtaining carbon credits, and how changes to the protocol for obtaining carbon credits might enhance the incentives to enroll land.
Forests for Maine's Future: Maine Just Wants to Be A Forest
The Eastern U.S.: Just Gotta Be a Forest?
http://forestsformainesfuture.squarespace.com/fresh-from-the-woods-journal/the-eastern-us-just-gotta-be-a-forest.html
By JOE RANKIN, for Forests for Maine's Future, March 23, 2017
Maine is the most forested state in the nation. About 90 percent.
It wasn't always that way, of course. European settlers in eastern North America initially confronted what they considered a fearful wilderness of trees. But when settlement ramped up, farmers expeditiously cleared millions of acres of trees to grow fodder for their animals and food for themselves. In Maine, the agricultural tide began to ebb in the mid-1800s and the trees came back.
You've probably heard it said that Maine just wants to be a forest. But it's not just Maine. The whole eastern U.S. "wants" to be a forest. It's apparently the region's ecological default setting, though the tree species vary from loblolly pine in the south to tulip poplar to white pine to shagbark hickory and yellow birch, to spruce and fir.
But, why? Read on . . .
Influence of Spatial Structure on Forest Growth and Stand Dynamics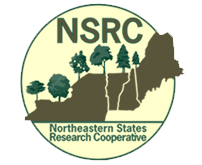 NSRC researchers Aaron Weiskittel, Christian Kuehne, and Shawn Fraver examined effects of forest thinning treatments on forest stand and individual-tree growth and on changes in forest structure. Researchers also assessed how distance from forwarder (machinery that carries logs) trails influences individual-tree growth. They used measurements from six spruce-fir study locations across northern Maine that were not thinned until the study was initiated ten years ago. Thinning treatments included a non-thinned control and combinations of thinning method (low, dominant, or crown) and level of relative tree density reduction (33% or 50%). Researchers mapped tree stems and measured tree diameters annually for ten post-treatment years. Although high numbers of trees died in some of the thinned stands, tree growth rates in the low thinning treatments remained at relatively high levels throughout the study period. This suggests there is plenty of ongoing productivity potential in stands that were significantly less structurally modified by thinning. Full report available from nsrcforest.org.
Webinar: Responses of Northern Forest Tree Species to Climate Change and Drought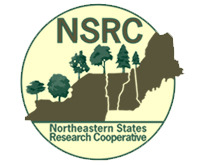 Webinar:  Responses of Northern Forest Tree Species to Climate Change and Drought
Heidi Asbjornsen and Matt Vadeboncoeur
University of New Hampshire
Abstract:  Climate change forecasts predict that the northeastern U.S. will see both an increase in total annual rainfall and a higher frequency of prolonged dry spells.  The extreme drought that affected much of New England during the summer of 2016 served as first glimpse of what such a future climate may look like.  This webinar presents the results from ongoing research in our lab focused on understanding the impacts of climate change, especially drought, on northern forests.  Additionally, we also consider the potential impacts of climate change on the capacity of northern forests to provide important ecosystem services to the region's communities, such as water resources, the production of timber, maple syrup, and other forest products, hydrologic regulation, and carbon storage.  Specifically, this webinar presents results from research conducted across the northeast, as well as from several long-term experiments in New Hampshire.  We show that across the region, trees growing in warmer climates (PA, WV) exhibit greater sensitivity to moisture stress compared to trees growing in the northern states (ME, VT, NH, NY), and that species differ significantly in responses to different climate variables.  We also found that during the height of the drought in late August and early September, white pine, hemlock, and red oak trees experienced severe moisture stress, as indicated by the almost complete cessation of water uptake. However, red oak exhibited less drought sensitivity, as indicated by its ability to continue photosynthesizing even when soils were very dry.  We conclude by discussing the implications of these findings for the sustainability and management of New Hampshire's forests for diverse ecosystem services in the face of future climate change.
Date:
Wednesday, February 22, 2017
Time:
10:00 – 11:00 AM
Webinar Instructions: Follow the link below to register for the webinar. You will receive a confirmation email with instructions to join the webinar. Please log in a few minutes prior to the event so you don't miss anything! 
If you are interested in attending the seminar in person, please let us know as space is limited.