Holt Research Forest Workshop – October 5, 2017
You are invited to attend this one day workshop on Thursday, October 5, 2017 at Patten Free Library, 33 Summer Street, Bath, ME (Directions here). Attendance will give you a chance to hear about the activities at HRF, explore current research opportunities, and possibly help in development of the future research agenda for HRF. we will have a one day research-focused workshop highlighting HRF and its 35 year history. After the workshop in Bath, there will be an opportunity to travel to HRF in Arrowsic for a tour (bus transportation provided).
Workshop Agenda (Printable copy here)
Wildlands and Woodlands, Farmlands and Communities
For Immediate Release – September 15th, 2017
Media Contact – Chrissy Beardsley Allen
Development and Outreach Director
Blue Hill Heritage Trust
chrissy@bluehillheritagetrust.org
(207) 374-5118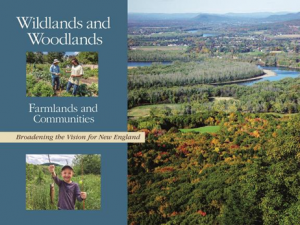 Blue Hill Heritage Trust Presents: "Wildlands and Woodlands, Farmlands and Communities," a presentation of the latest New England Conservation Plan, published by The Harvard Forest and Highstead Foundation.
Free admission, light refreshments will be served, all are welcome.
Blue Hill Heritage Trust, in cooperation with the Downeast Conservation Network, is pleased to host Spencer Meyer, Senior Conservationist at Highstead, on October 3rd, at 7pm, at the Bagaduce Music Lending Library's Performance Hall (South St., Blue Hill).
Meyer will present on Wildlands and Woodlands, Farmlands and Communities, a regional conservation report, published this month, by Harvard Forest and Highstead. The report is being debuted on September 19, 2017, at Harvard University, and Blue Hill will be the first stop on a New England-wide tour.
"Since 2004, two editions of Wildlands and Woodlands have offered bold visions for conservation in New England, calling not only for increased protection of ecologically important wildlands, but also of New England's vital working woodlands. This latest edition takes that vision one step further, addressing the need for more farmland conservation, as well as smart urban development, all in a rapidly changing conservation funding landscape. Far more than earlier versions, this edition is focused on conserving the character and the communities of New England, along with the land that supports them. This report puts our work, and the work of so many other organizations and people here on the Blue Hill peninsula, into a hopeful and inspiring context, and we are thrilled to be able bring this to our communities."
– Hans M. Carlson, Executive Director of Blue Hill Heritage Trust
This report follows on a previous Wildlands and Woodlands conservation vision for the region, which in 2010 called for the permanent protection of existing farmland and 30 million acres of forest, with most of the forestland managed for wood products and other benefits (27 million acres) and 10 percent set aside as wildland reserves (3 million acres). The new report broadens its view of regional conservation, fully embracing farmland and the built environment and recognizing the region's diverse conservation needs and challenges. The report presents conservation trends over the past several decades, including acreage protected and lost, changes in public funding in each state, and the power of emerging networks of conservation partnerships and new policy and finance opportunities. The authors show that the original Wildlands and Woodlands vision is still achievable and call for tripling the current pace of conservation, reversing public funding losses, and putting more land to work for sustainable forestry and farming. The new report, including video and supporting material can be viewed or downloaded free at http://wildlandsandwoodlands.org/vision/ww-vision-reports after September 19.
2017 Mitchell Lecture on Sustainability
Keynote Speaker: Thomas Dietz, Michigan State University
Thursday, September 21, 2017 at 1pm Hauck Auditorium, University of Maine
The 21st century will see unprecedented transformations in human life and vast changes on planet Earth. Key among these are the problems of sustainability, but emerging technologies − especially the intersection of nano, bio, information and cognitive technologies − also have the potential to reshape human life. These challenges will require difficult decisions based on both science and our values. There seems to be a broad consensus that we should improve human well-being while protecting the environment, but research shows that there are many obstacles to good decision making by individuals, organizations and government. How can we do better? While the obstacles we face are formidable, research on decision making provides ideas on how we can move forward to make decisions that better reflect both the facts and our values.
This event is free and open to the public. However, tickets are required. Ticket reservation information will be posted shortly.
Holt Forest site of newly published study
Long-term study links tree seeds, rodent population fluctuations
Maine Forest Dashboard Website Now Available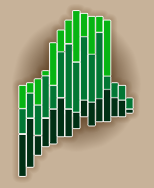 The University of Maine Center for Research on Sustainable Forests has partnered with the Maine Forest Service to develop and release the Maine Forest Dashboard website.
The website provides current information about aspects of Maine's forest, including recreation and tourism, conservation, forest products and family forests. The website also provides interactive graphing capabilities with important statewide utilization data, such as annual county harvest levels by species (1996-2014) and nominal annual stumpage pricing by species and product (1959-2013). This data previously resided in annual reports prepared by the Maine Forest Service. The new website offers greater access to this historical data and ability to assess long-term trends.
The website will be regularly updated as new data becomes available and additional features added. For more information, please contact the Center for Research on Sustainable Forests (207-581-3794; crsf@maine.edu).
The Maine Woods: A Landscape of Working Forests and Collaborative Conservation
Conference registration now open for the conference to be held in Bangor and Maine's North Woods, October 3-5, 2017. Topics include: managing forests at a landscape scale, working forest conservation easements, aquatic connectivity, and public use of private lands. For more information click on the link below.
ECANUSA Conference Proceedings Released
The Eastern CANUSA Forest Science Conference has just released the Proceedings of the 8th Eastern CANUSA Forest Science Conference. The conference was focused on the many stressors and agents of change converging on the region's forests. Scientists and practitioners from a large spectrum of expertise made presentations on research, monitoring, management and outreach activities to address the many challenges that our changing environment present to the sustainable management of the regions forest resource. Abstracts of all presentations are included in the proceedings.
Forest Economic Growth Inititative
Patrick Strauch, Executive Director of the Maine Forest Products Council, discusses the next steps in the long-awaited "roadmap" for Maine's forest economy.
2016 Annual Report Released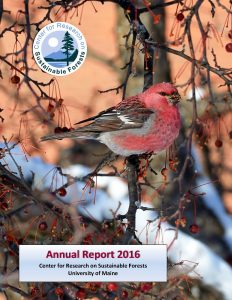 The 2016 CRSF Annual Report is now available.
Carbon Credit Programs Among SFI Participants in Maine
Maine has 17.6 million acres of forests, 17.1 million acres (97%) of which is considered timberland. Maine forest landowners are growing more wood than they harvest, and the carbon in the state's forests has increased in volume by almost 5% from 2004 to 2012. Over eight million acres in Maine is managed according to the sustainability standards of the Sustainable Forestry Initiative, Inc. (SFI), and/or the Forest Stewardship Council (FSC), or the American Tree Farm System (ATFS) — a key eligibility criterion for carbon credit programs. Yet, none of the 6.3 million acres of SFI‐certified lands in Maine are enrolled in a carbon credit program — not for lack of interest, because all of Maine's SFI participants have considered carbon credits. Maine landowners who participate in other certification programs or adhere to a sustainable long‐term management plan approved by a
state or federal agency have enrolled tens of thousands of acres in carbon agreements worth millions of dollars.
"Adoption of Carbon Credit Programs among SFI Participants in Maine," the recently released report by Keeping Maine's Forest, analyzes the degree to which forests managed to the Sustainable Forestry Initiative's (SFI) standards in Maine are enrolled in carbon credit programs; analyzes the opportunities and constraints these programs represent for landowners; and examines the strengths and weaknesses of different landowner types when considering enrolling land in a carbon credit program. The study examines the value that sustainability certification adds to the process of obtaining carbon credits, and how changes to the protocol for obtaining carbon credits might enhance the incentives to enroll land.