Brown Ash/EAB Webinar & Field Tour

Case Studies in Adaptive Forest Management under the Changing Climate:
Caring for Maine's Brown Ash Resource in the Face of Emerald Ash Borer
Webinar: March 1, 2023
1 Cat 1 SAF CFE eligible
Field Tour: March 3, 9:00am-1pm 
4 Cat 1 SAF CFE eligible
Panelists John Daigle, Tyler Everett, Emily Francis, Andy Shultz, and Mike Parisio will focus on species preservation goals in the context of Brown Ash in the face of emerald ash borer (EAB); state update on EAB status, traps, and monitoring; management trials and brown ash seed collection projects; and forest/land management in face of EAB in the greater Greater Augusta Utilities District around Readfield, ME and beyond.
Webinar Panelists: John Daigle, Professor of Forest Recreation Management; Tyler Everett & Emily Francis, UMaine SFR PhD students-Ash Protection Collaboration Across Wabanakik (APCAW) Lab; Andy Shultz, consulting forester; Mike Parisio, Maine Forest Service entomologist
Field Tour: Carleton Pond forest, Greater Augusta Utility District (Readfield, ME). Silviculture–operations and planned harvest in the face of EAB, impact of EAB and trap tree demo, basketry and basket quality trees, ash pounding demo, seed collection efforts.
Resource Links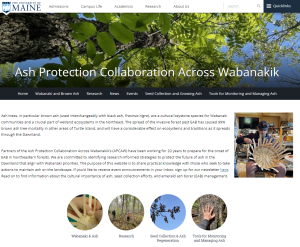 Upcoming Events
April 3, 2023, 1-2pm: The Cultural Importance of Brown Ash
May 3, 2023, 830-1130 am: Ash Inventory Workshop #1
Ash trees throughout the region are under severe threat due to the spread of the Emerald Ash Borer (EAB). In response to the growing interest in protecting the future of ash trees, John Daigle and his team of graduate researchers working together as the Ash Protection Collaboration Across Wabanakik (APCAW), are organizing a multi-part training series in 2023. This series will share information about how to care for ash in ways informed by current research and Wabanaki priorities, and will cover everything from ash inventorying, to seed collection and storage, to fostering ash regeneration.
For Landowners: 10 Recommendations to Help You Manage Ash in Your Woods (pdf, Forest Stewards Guild publication)
For Foresters: 10 Recommendations for Managing Ash in the Face of Emerald Ash Borer and Climate Change (pdf, Forest Stewards Guild publication)
Forest Service Talks: Ash Protection Collaborative Across the Wabanaki (60 min video). The Eastern Region's most recent FS Talks highlighted a unique collaborative effort to save and effectively manage brown ash (or black ash) from the destructive emerald ash borer.
Managing Brown Ash for Resiliency Against EAB and Climate Change (60 minute video)
Human Dimensions Research Around the Invasive Species of Emerald Ash Borer and the Native American Cultural Keystone Species of Black Ash (pdf)
Forest Adaptation Webinar Series: Managing Emerald Ash Borer and Climate Change | Climate Change Response Framework