CRSF Releases Annual Report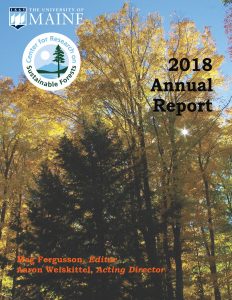 The Center for Research on Sustainable Forests has released it's 2018 Annual Report, a comprehensive report of Center-related forest research, new initiatives, and outreach efforts. You can download the full report here, or contact us for a printed copy.
Highlights of 2018
CRSF began managing and coordinating the Climate and Forest Network, an outreach effort to improve networking and communications as well as collaborative research on climate change and challenges. Visit our Forest Climate Change Initiative page to learn more.
Long-term research efforts continue to flourish at the Holt Research Forest(HRF) and Penobscot Experimental Forest (PEF). An external review was conducted at the HRF and a strategic plan is being developed, while large-scale silviculture experiments on the PEF continue to gain data on biomass harvesting, pre-commercialization, and silvicultural rehabilitation.
Drs. Erin Simons-Legaard, Kasey Legaard, and Aaron Weiskittel completed the 15-week Maine Innovation, Research and Technology Accelerator (MIRTA) program to help commercialize research on a high-value, low-cost geoinformatics system.Visit our Intelligent GeoSolutions page to learn more.
As the new lead site for the NSF I/URC Center for Advanced Forest Systems(CAFS), the CRSF hosted 30 academic and industry members from 9 states at the annual meeting and field trip held in Burlington, VT.
The CFRU conducted a workshop and field tour on Sustainable Forest Management and Soil Productivity in June attended by a mix of nearly seventy CFRU members, academics from several institutions, and the community. In addition, the CFRU hosted two webinars highlighting: (1) current spruce budworm conditions in Maine and an update on New Brunswick's early intervention program, and (2) deploying auto-acoustic devices to record and monitor Maine's forest songbirds. You can view those webinars here.