ECANUSA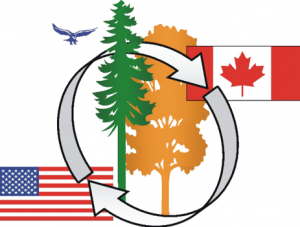 The northeastern United States and eastern Canada share a vital and common link to the northern forest. In addition to strong economic dependence, people of the region derive considerable recreational, aesthetic, and ecological values from this forest. The future of the region clearly relies upon the sustainable management of this highly valued forest resource.
Because of the northern forest's importance to the region, forest managers and researchers from the northeastern states and eastern Canadian provinces are working continuously to find solutions to a wide variety of natural resource problems. Great work is occurring on both sides of the US/Canadian border that would be further enhanced by regular information exchange about issues affecting the northern forest. A forum is needed to promote ongoing discussions and collaborations about the latest forest problems, methods, findings, and technologies.

The Eastern CANUSA Forest Science Conference was developed to provide a regular venue for communications among forest managers, forest scientists, policy makers, students, natural resource professionals, and others interested in forest resource issues from both sides of the Canadian/US border. The series has been held biannually since 2002.
The University of Vermont hosted the 8th Eastern CANUSA conference in forest science from September 30th to October 1st, 2016. Currently, many stressors and agents of change are converging on the region's forests and ECANUSA welcomes scientists and practitioners from a large spectrum of expertise to address the challenges this presents. Proceedings and field trip guide from the meeting will be posted as soon as they are available..