Maine-FOREST EPSCoR Proposal
Forest-based Opportunities for Resilient Economy, Sustainability, and Technology (Maine-FOREST)
The Challenge: Lead a comprehensively integrated research, education, and outreach program that fosters diversified and robust forest-based economies and rural livelihoods.
A Track 1 EPSCoR proposal that seeks to expand on the University of Maine's comprehensive research capacity to build a program that considers the entire forest socio-ecosystem across all potential dimensions within the broader context of rural economic and livelihood diversification, through a 4-pronged approach:
Environmental Artificial Intelligence (AI) & Informatics: Utilize advanced technologies and AI to better understand the driving ecological and economic factors influencing past/current/future value of forest ecosystem services.
Cellulosic Nanomaterial Bioproducts: Develop novel products that use sustainable nanomaterials and advanced manufacturing processes.
Integrated Social-Ecological (SES) Systems: Advance participatory modeling to improve understanding of complex SES interactions and link science with economic, policy, and rural community innovation.
Green Collar Workforce Development: Design, build, and implement successful pathway programs focused on targeted, applicable academic programs and job training.
Download our 2-page project summary pdf for more details on the project.
---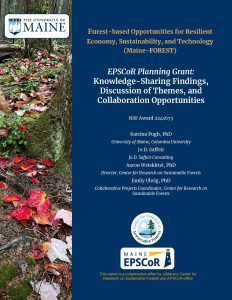 In January 2023, UMaine and the Maine EPSCoR Office were awarded a planning grant (OIA-2241675) to complete strategic activities necessary to develop an inclusive capacity-building research and workforce development proposal well aligned with the state's current S&T Plan. The Planning Grant Report is available for download here.