Nature-Based Tourism
Program Overview
Dr. Sandra De Urioste-Stone, Program Leader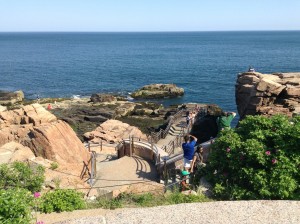 The mission of the Maine-based Tourism Program is to conduct collaborative research, education, and outreach that promote sustainable tourism in Maine. Efforts to support this mission include increasing the efficiency and opportunities for Maine's tourism industry by regularly gathering, analyzing, and communicating information about the economic impact and trends of tourism in Maine; promoting the development and enhancement of tourism destinations by understanding the social, cultural, and economic factors that facilitate and limit local tourism in Maine communities and their potential vulnerabilities due to radical weather cycles and economic trends; and promoting environmental stewardship of tourism in Maine by understanding and managing for the environmental effects of new and existing tourism opportunities.
Current Studies
Understanding Visitor Perceptions about the Impacts of Climate Change to Tourism Destinations in Maine
Sandra De Urioste-Stone
Climate change is one of the most pressing global environmental issues facing the world today and one that has major social, economic and environmental repercussions. Among all economic sectors, tourism is considered one of the most vulnerable industries to climate change due to its frequent reliance on natural resources as primary assets. In spite of this, research on the potential effects of climate change on tourism destinations remains scarce. A comparative case study was conducted in two Maine tourism destinations to understand (1) visitor perceptions about the impacts of climate change on tourism, (2) visitor risk perceptions associated with climate change, and (3) potential travel substitution strategies in response to changing climatic conditions.
Analyzing the Economic Impact of Tourism in Maine
Sandra De Urioste-Stone, Caroline Noblet, and Todd Gabe
The travel and tourism industry plays a key role in Maine's economy, and the economic development of many communities in the state. By most measures, tourism is considered one of the largest industries in the state. In 2012, the industry generated over 20% of the state's jobs and accounted for an estimated 17% of state tax revenue. Limited information exists on the economic activity generated by tourism in Maine. This study intends to contribute to the ongoing efforts by the Maine Office of Tourism to estimate the economic impact of the industry. The study includes two phases: (1) a pilot visitor survey (June 2014 – April 2015) to establish an effective and reliable methodology; and (2) a mixed-mode visitor survey (intercept and online) is being conducted in the state to understand travel behavior and spending.